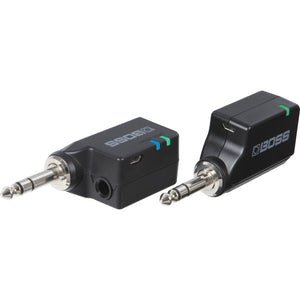 Boss WL-20 Wireless System (Electric)
Have you always dreamed about going wireless with your instrument, but were put off by the complicated setup, tone loss, and bulky adds-ons? If so, the Boss WL-20 series is for you! Driven by new lightning-fast BOSS tech, these ultra-compact music tools deliver premium sound and plug-and-play operation that completely eliminates all the hassles normally associated with wireless systems. Once you experience the easy wireless independence provided by the WL-20 series, you'll never go back to using a standard cable again!
FEATURES
Plug-and-play wireless systems for guitar, bass, and other electronic instruments
No complicated setup required - simply dock the transmitter and receiver together for about 10 seconds to set the optimum wireless connection
Newly developed BOSS technology delivers premium audio performance with rock-solid stability, ultra-low latency (2.3 ms), and 50-foot/15-meter range (line-of-sight propagation)*
Built-in rechargeable batteries provide up to 12 hours of continuous playing time**
Simple charging with a standard USB adaptor (5 V/500 mA or greater)
Cable tone simulation reproduces the natural capacitive effect of a 10-foot/3-meter guitar cable (WL-20 model only)
Spare WL-T Transmitter available separately
Lightning-Fast BOSS Wireless Technology
Equipped with high-performance BOSS wireless technology that debuted in the Katana-Air wireless guitar amp, the WL-20 series delivers exceptional sound quality with wide dynamic range. Working in the 2.4 GHz frequency band, the optimum channel is set automatically to ensure rock-solid audio performance with absolutely no drop-outs. And with ultra-low latency of just 2.3 ms, you'll always enjoy great playing feel with no lag whatsoever. Up to 14 BOSS wireless systems can be used simultaneously in one space, allowing multiple musicians to enjoy wireless freedom at the same time.
Plug In and Rock
A WL-20 system is literally as simple to use as a standard guitar cable. The small transmitter plugs into your instrument, while a matching receiver plugs into a pedal or amp. That's it!
Automatic Wireless Setup
With the WL-20 series, there's no fiddly channel setup required. Just dock the transmitter and receiver together for about 10 seconds to automatically set the optimum connection.
WL-20: Built-In Cable Tone Simulation
If you play a guitar or bass with standard passive pickups (the most common pickup type), the WL-20 model is probably your best choice. It includes built-in cable tone simulation, which reproduces the natural capacitive effect that's introduced when using a 10-foot/3-meter guitar cable with passive pickups. This effect rolls off the treble very slightly, giving you the warm tone you're used to hearing with a normal cable.
Easy Charging via USB
When docked, the built-in batteries in the transmitter and receiver can be charged together with a standard USB adaptor (5 V/500 mA or higher), the same type used with the latest smartphones and tablets. The transmitter and receiver can also be charged separately, and a micro USB cable is included for charging.
---
We Also Recommend